Johann Schnellar led the tuning spindle centrally through the skin and the timpani.
The timpani shown were equiped with a crack-lever-system. A guide rail for the spindle was
attached to the side wall and a lever mechanism was installed.
I don´t  know who rebuilt the timpani.

The wooden conjumetion of the timpani has partly come loose.
The woods are fastend with screws, not glued.
The rings for the fur pad consist of two layers of wood,
which causes partly deformation.
The panel, consisting of five layers of wood is strongly deformed.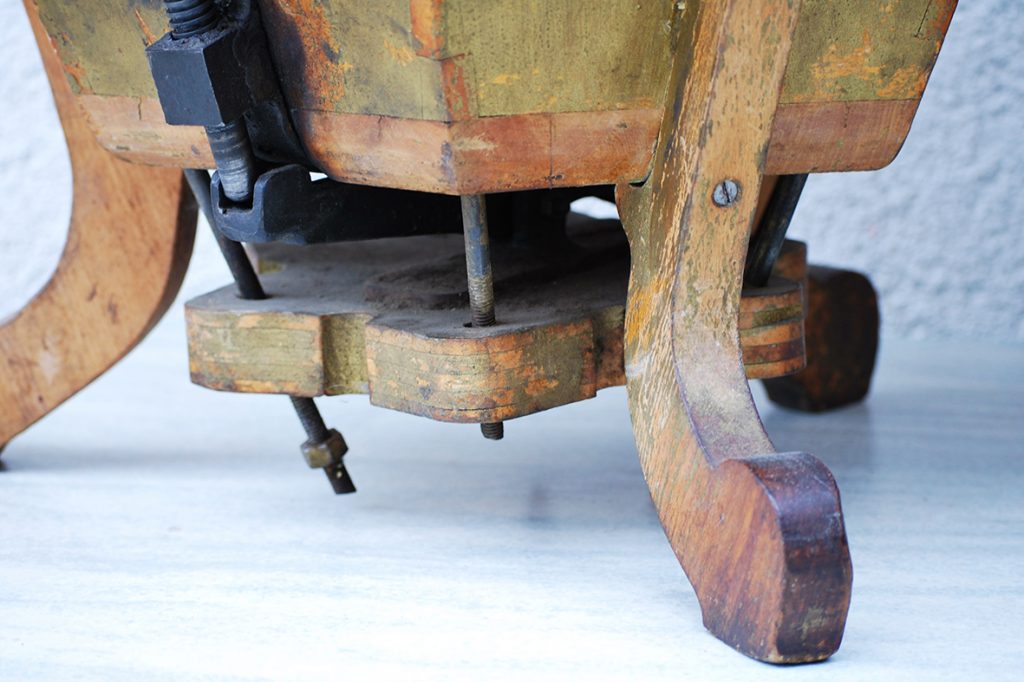 You can see a burn mark on the side surface.
The designer of the new tuning device had burned-in
the rail on wood.
I used adhesive resin for the wood joint.
The prefabricated curved elements are glued in a staggered
manner and the produce the tires for the membran.
The new rings are attached and the woods adjusted.
Originally the timpani were stained grey and varnished.
You can see the brown part.
Later everything was painted with gold bronze paint.
This color has lost its shine.
The trademark of Schnellar & Weiwoda is visible.
I dont want to restore the surfaces, a restorer has to do that.
The owner of the timpani says the sound of the timpanis is very beautiful.
I will introduce some sound examples.